Your Jupiter Loxahatchee River Website


Meet your Loxahatchee Community!
The Loxahatchee River meanders through Palm Beach and Martin County's wonderful lush and tropical landscape, providing a beautiful backdrop for the desirable area. It is home to the beautiful nature preserve of Jonathan Dickinson State Park, as well as to thousands of unique breeds of native turtles. Appropriately named, "Loxahatchee" is actually the Native American word for "river of turtles." The Loxahatchee community also boasts some of the most elegant and prized real estate in South Florida.
Loxahatchee Riverfront Homes
The tranquil waters of the Loxahatchee River offer a warm and welcoming sanctuary for the weary and restless. Jet skis, boats and fishermen, parasailers, and scuba divers decorate the river's boundaries by daylight. At night, the river transcends into an ethereal reflection of endless skies dotted with a shimmering sea of stars. The pure and natural enchantment of Loxahatchee Riverfront living cannot be duplicated, though its remnants are often attempted in countless works of art from all over the world.
Jupiter Riverfront Homes

Located north of Palm Beach Gardens and south of Stuart, the town of Jupiter is notorious for its sandy beaches, outdoor lifestyle, and luxurious residences. With highly in-demand waterfront homes sitting directly on the Loxahatchee River, Jupiter is a popular location for people of all ages, due to its unmatched views and convenient access to boating and other water sports. Jupiter riverfront homes include communities such as Bamboo Point, Bay Harbor, Compass Island, Islands of Jupiter, Jupiter River Estates, and Pennock Point.
Tequesta Riverfront Homes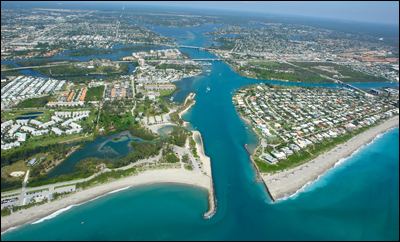 Tequesta is a charming village located just north of Jupiter. It showcases a haven of lovely waterfront homes in an exclusive sanctuary tucked away from the rush of city living. Over welcoming sidewalks lined with oak trees, families walk their dogs and greet passing joggers and cyclists amidst warm river breezes. With the ultimate in peace and relaxation, Tequesta riverfront homes include Anchorage Point, Bay Harbor, Heritage Oaks, Jupiter Hills, Rolling Hills, Tequesta Country Club, and many more.


How to Use This Site
For more information and to see actual listings, visit the links on the left-hand side of the page. You'll see a mixture of beautiful Jupiter and Tequesta waterfront and riverfront homes. To see our listings, you'll want to visit the Featured River Homes tab on the top left hand side of the page. To learn more about how we market your waterfront property locally and internationally, click the Selling tab at the top of the page. To learn more about Waterfront Properties & Club Communities and the unique way we structure our market, you'll want to click the About Us tab on the top left-hand side of the page.

Please contact us, and we will be happy to assist you in selling or buying your Jupiter or Tequesta Waterfront Property.

Sincerely,



Rob Thomson's Riverfront Team
Rob Thomson, Sheri Carter, Cheryl Henderson
& Jack Thomson

Direct: (561) 743-0344
Office: (561) 746-7272